How do you know what type of property is best for you? Ultimately, the best choice for you will depend on your needs and what you're looking for, whether you choose a condo, home, or even a townhouse. That said, we do have some tips to help make your home hunting journey a little easier and some ideas on what to consider.
What Are the Main Differences Between Condos & Houses?
Of course, the main differentiator is price. Condos are typically the cheapest of the two options, but your mortgage isn't the only thing to consider. Your lifestyle is another big factor to consider when you're choosing between a condo, house, or even something in between like a townhouse.
It can be a bit confusing navigating the personal property market. Depending on the developer or seller, different terms might be used to describe the same type of property. For example, a condo may also be called a condominium or a strata and the complex could resemble a townhouse or even a house depending on the community.
For the most part, condos are apartment-like structures where the individual units are rented out. You own your condo unit, but all other amenities and structures like hallways, elevators, gyms, pools, and green spaces are shared. You aren't responsible for maintenance or repairs, but you are expected to pay a monthly fee and special assessments for larger repairs.
Unlike condos, when you own a house you are responsible for paying for and handling all repairs and maintenance. While this means you avoid a monthly fee, you're also on the hook for regular maintenance like snow removal and unexpected repairs like a furnace break-down. You own the land and the lot, meaning you are free to renovate and decorate as you see fit, assuming you abide by your local bylaws and home owner's association rules.
Based on the basic differences alone, you probably have a good idea of whether a condo or house is the best choice for you, but we're going to dive into the pros and cons of both to make sure you're making the best financial and lifestyle choice for you.
The Pros & Cons of Condos
Pros
First and foremost, condos are usually cheaper than houses meaning your mortgage payment will likely be lower. Condos are becoming more and more popular across cities in Canada given their affordability and oftentimes, their location. Condos are closer to work and entertainment for many people, saving you a commute from the suburbs.
Condos often come with amenities like pools, gyms, and parking. Many condos also have a front desk and other security measures like cameras, making them more secure than the average detached house.
They also come with the financial security of knowing you're not responsible for repairs or upkeep. Your monthly fees cover most maintenance, meaning you don't have to worry about calling a handyman or doing it yourself.
Cons
If you don't mind sharing common spaces, then condos can be a great fit. You have to be prepared for less privacy and the inevitable noise that comes with sharing walls with your neighbours. In most cases, condos are simply smaller than the average house.
For the most part, condos come with less space and less freedom than houses. You aren't free to use the space however and whenever you want, sometimes including the unit you actually own. Condo board rules and bylaws are much stricter than any home owner's association, and they place heavy restrictions on most upgrades or changes you make to your unit.
Be prepared for monthly fees and special assessments with your condo. Monthly fees will usually cover the basic maintenance and upkeep, but big repairs usually fall under a special assessment. Special assessments are additional fees that are either added onto your regular fees or paid as a lump sum to cover the costs of large projects like roof replacements.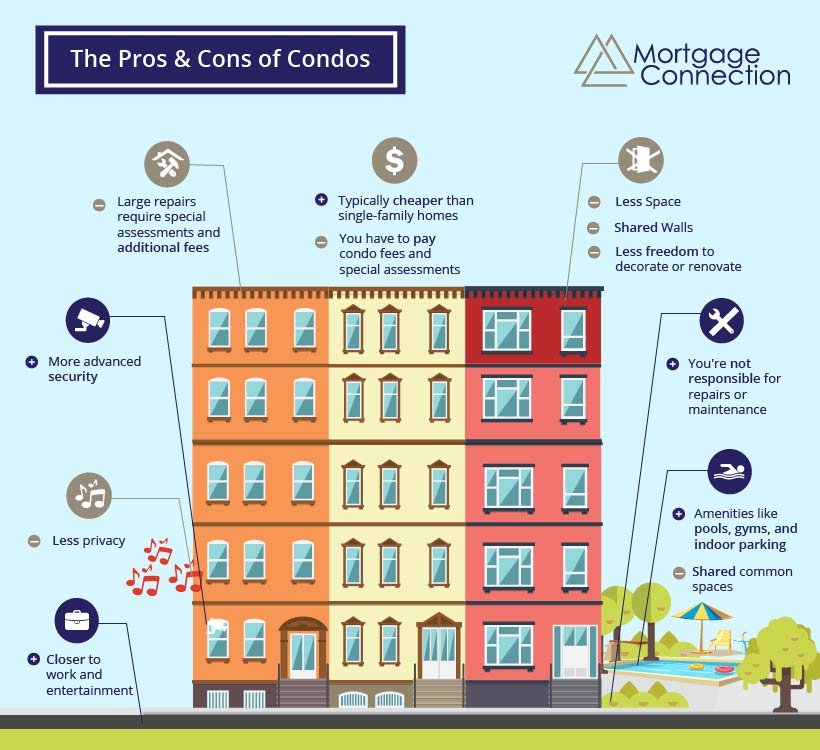 The Pros & Cons of Houses
Pros
When you own a house, you also own the land beneath it and surrounding it. With that ownership comes relative freedom. Assuming you abide by your local bylaws and homeowner's association rules, you're free to decorate, maintain, and otherwise alter your house as you see fit.
Houses generally provide more independence and freedom. You're free to use your space whenever and however you want. Unlike condos, no shared walls mean you don't have to worry as much about being too loud. And because you own the whole house, you're obviously free to use the rooms and amenities as you see fit, without having to share with your neighbours.
Cons
Of course, in many cases, houses are more expensive than condos. Depending on your budget, you might find yourself searching for a home in the suburbs, creating a longer commute and putting you further away from amenities and entertainment.
You do avoid paying condo fees with a home, but you're responsible for all expenses when you own a house. In addition to costs like your mortgage and utilities, you're accountable for all fees like utilities, property tax, and insurance. Because houses are usually more expensive, be prepared to pay more in property tax and insurance as well.
You're also accountable for all maintenance and repairs and the costs associated with your house. Basic maintenance like mowing the lawn and shovelling the sidewalk is your responsibility. All repairs are your responsibility, too. From painting the walls to repairing siding, you have to be prepared to pay an expert to do whatever you can't fix yourself.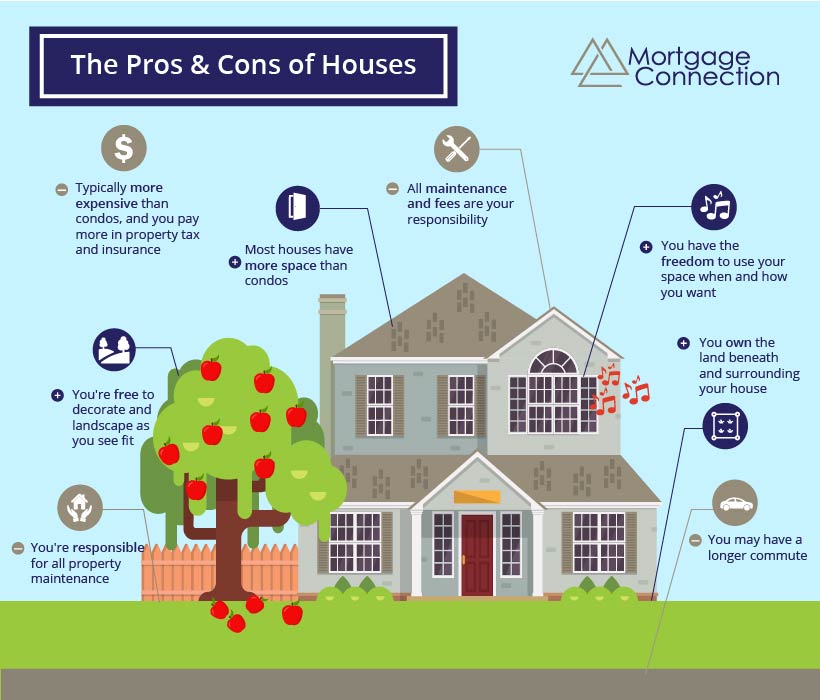 So, What Option is Best for You?
At the end of the day, whether you choose a condo or a house will depend on your budget and your lifestyle. Would you rather have a smaller condo but be closer to work? Or would you rather have more space in a house with a longer commute? Questions like these are important to ask yourself.
It's also important to review each condo complex and house individually. Different condos will have different regulations and fees, just like different houses will have different quirks and communities. Once you've decided which option is best for you, we're here to help you with your mortgage financing. Contact us to apply for a mortgage and get approved for your perfect home, whether it's a condo or house.