Have you considered purchasing a plot of land for your new dream home away from the city and suburbs? Maybe you've visited some vacant land and thought it would make a perfect place for your dream home. If you have, it's essential to consider how you will finance your purchase and what options are available to you.
If you have any questions, don't hesitate to contact us at Mortgage Connection so we can help you meet your land ownership and mortgage needs. Let's dive in and discover what types of vacant land there are and how you can mortgage it.
What is Vacant Land?
There are a few different types of vacant land in Canada, but the general definition is land where a permanent dwelling doesn't currently exist. For the most part, vacant land is categorized by who owns it and who you would be purchasing it from.
Private Land
Individuals own private land instead of the municipal, provincial, or federal government or a corporation. While private land is still governed in some ways by laws which govern what the owner can or can't build on it, it is primarily up to the discretion of the landowner what to do with it.
Most of the time, vacant private land is at least partially developed. While it doesn't have any permanent structures like houses, it would be relatively easy to zone and build on. It may have septic, water, power, roads, or other existing infrastructure.
Raw Land
Raw land is also privately owned but doesn't have any infrastructure, unlike vacant private land. Raw land is primarily characterized by the fact that it has never been developed and won't include utilities like water and power. Raw land likely won't feature any roads, paved or otherwise.
Raw land can be an option if you're a residential developer looking to establish a subdivision as a long-term investment strategy.
Crown Land
Crown land is similar to raw land because it doesn't feature any infrastructure like municipal water or electricity. However, the main difference is crown land is owned by either the provincial or federal government, not by a private individual.
Purchasing crown land comes with restrictions on its eventual use. In addition to finding a mortgage lender, a potential buyer would have to submit an application to the province's public land disposition agency. You can find more information about provincial land disposition here: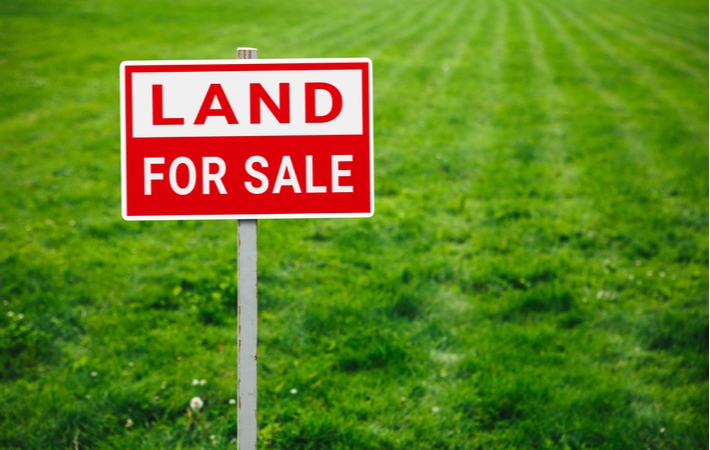 How Can You Mortgage Vacant Land?
Getting a mortgage on vacant land can sometimes be difficult because you aren't attached to the land. Lenders don't have any collateral in the form of a house or other structure, and if the person they lend to defaults on their mortgage payments, it's more challenging to sell the land.
That being said, here are a few options to get a mortgage for vacant land.
Land Loan
Land loans usually feature a sizeable down payment and high-interest rates to make up for the lack of collateral. A down payment for a serviced city lot with existing infrastructure can be 20–30%. A down payment for raw land, on the other hand, could be as high as 40–50%.
Home Equity Line of Credit
A home equity line of credit (HELOC) lets you borrow money to purchase land if you're a current homeowner with equity. HELOCs are flexible, most banks and lenders offer them, and they work similarly to a credit card.
HELOCs can be beneficial because you'll be paying a lower monthly rate overall. This might be a good option if the land you're purchasing is inexpensive compared to other properties.
Construction Mortgage
If you plan on building a new home on your vacant land, you might want to consider a construction mortgage. A construction mortgage is a structured way to receive financial help when building your new home.
Construction mortgages are often calculated based on your build's cost per square foot. You don't receive all of the money at once when you're approved for a construction mortgage. Instead, you receive funds as your project reaches agreed-upon milestones.
Agricultural Loan
If you purchase land with the goal of one day farming it, you could seek an agricultural loan. An agricultural loan helps finance the purchase and development of your farmland, including buying equipment and constructing structures like barns and silos.
Meet With a Broker Today
The first step to getting a mortgage for vacant land is to meet with a broker. Your broker goes over all your wants and needs and works with different lenders to find the right mortgage for you. They can take the hassle out of the process and make it easier for you in the long run. Contact us today if you're considering purchasing vacant land. Whether it's for your new dream home or your next big project, we're ready to help you find the right mortgage to realize your land-ownership goals.