Whether you're a new home buyer, ready to downsize or upgrade, or a seasoned homeowner, renovation projects have surely crossed your mind. Adding minor or major improvements can enhance the flow of your home's layout and create updated and refreshed spaces like a spa bathroom or fitness area.
Whatever your home improvement dreams are, they can add value to your real estate by adding functionality, modernity, and updated features.
But, when it comes to large-scale renovations, and you don't have the cash on hand, how are you supposed to pay for it? We'll dive into the details of how you can add renovation costs to your mortgage whether you're a new home buyer or you already own.
Things to Consider Before You Renovate
First and foremost, you have to consider if you can adequately repay the debt your home improvement creates. A mortgage is already a massive undertaking, and adding the hefty costs or renovations could push you over budget.
You'll have to break out the calculator for this one and discuss your costs with your family, friends, potential contractors, and your mortgage broker. If your budget doesn't cover it, you may want to stick to saving, keep searching for your dream house, or rethink your renovations.
Renovations on a New Home
Well, this is such an exciting time! You're ready to enter the world of owning real estate, and you've searched far and wide for your dream home. Let's say you've fallen in love with a fixer-upper with great bones, and you want to renovate it to create your ideal space—to truly call it your own.
The great news is that you can roll a renovation loan into your mortgage. Of course, the best thing to do is talk to your mortgage broker about the details, but we'll give you an overview of what options you can expect.
Options for New Home Buyers
Got the green light? Excellent! So what are your options? You'll want to calculate the costs of your renovations and choose the best course of action based on the price of the upgrades and what interest rates you'd be subject to.
For first-time home buyers, you can always talk to your mortgage broker, and they can advise you on the best course of action. Consider these options to cover your renovation costs:
Personal savings: Lucky you! You already have the funds to tackle smaller renovation projects. Go knock down some walls!
Credit card: You could use a credit card for smaller renovations, but be aware of the higher interest rates synonymous with credit card debt.
Personal line of credit: A line of credit allows you to access funds for ongoing or long-term projects, and you only pay interest on the amount you use. Line of credit interest rates are lower than credit cards, and you can re-borrow funds up to your credit limit without reapplying.
Mortgage financing: When you purchase a home, you can add your renovation costs into the mortgage, which will have a lower interest rate than other options, and you can pay it off over a long period.
The benefits of adding your renovation costs to your mortgage come in the form of lower interest rates. So, discuss your plans with your mortgage broker and get their expert advice on how to proceed.
Ready to discuss your renovation ideas with your mortgage lender? Chat with someone from our team at the Mortgage Connection—we'll help you find ways to save that you hadn't thought of when it comes to your mortgage.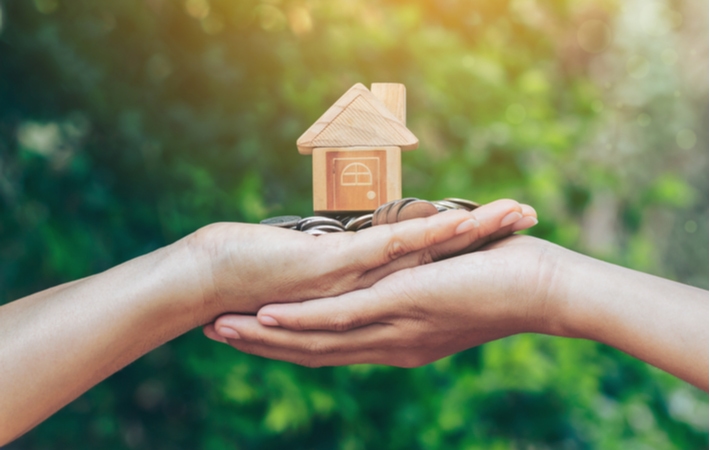 Already Own a Home? Read Here
If you're a seasoned homeowner or you're ready to move into your next house for downsizing or upgrading reasons, you have a few options to help cushion the blow of renovation costs. You can check the options above for smaller-scale projects, but some financing tools are available to homeowners specifically.
Here are some of your options—but of course, it's best to speak with the pros at the Mortgage Connection for information specific to your circumstances.
Mortgage Refinancing
Mortgage refinancing, or refinancing your home, is a viable option to consider if you don't want to acquire funds subject to higher interest rates like a line of credit or personal loan. Instead, mortgage refinancing considers how much your principal amount is (how much you have left to repay on your house) and allows you to borrow up to 80% of the appraised value.
Using this option to pay for renovations could mean a higher monthly payment. However, when you refinance your home, you can change the conditions of your mortgage, which could potentially save you money in the long run.
Speak with our mortgage brokers today and find out if this is the best course of action for you.
Home Equity Line of Credit (HELOC)
If you're already a homeowner, you can use your home equity to your advantage and apply for a Home Equity Line of Credit (HELOC). This allows you to borrow money at a low-interest rate against the equity you've built up by owning your home.
The HELOC is an optimal and inexpensive way to borrow money to cover your renovation costs. You may need to have an appraisal to determine the value of your home, and then you'll be able to finance 80% of that amount and then borrow 65% in a HELOC.
Grants & Rebates for Energy Efficiency
If your renovation goals involve updating your home to make it more energy-efficient, you have some options at your disposal to subsidize the costs. Federal, provincial, and municipal governments and some local utilities companies may offer rebates and grants for energy-saving home improvements. Check out the CMHC Green Home premium refund, environmental incentives by province, and EnergyStar rebates.
Set Aside a Rainy-Day Fund
Whenever you undertake any home renovation project, no matter how you end up financing it, you should always have an emergency fund for the unknown and unexpected costs. This could even be for purchasing updated appliances or adding furniture to your renovated rooms—having a rainy day fund to fall back on is never a bad thing!
Have More Questions?
The whole process of finding funds to finance your renovations is undeniably daunting—but that's where the experts come in. If you have any lingering woes or inquiries about adding renovation costs to your mortgage, please get in touch with our well-informed team at Mortgage Connection. We'll have you knocking down walls and sprucing up your space in no time!