From home equity lines of credit (HELOCs) to refinancing your mortgage, there are several unique ways you can leverage your home and reach your financial goals. Even as you get older, you can use your home to help support your retirement.
While you can tap into the income provided by your RRSP, Canadian Pension Plan, and Old Age Security pension, these might not be enough to fund the life you want to live. A reverse mortgage can help manage some of these costs just by utilizing the value of your home.
But what is a reverse mortgage? And how do you know if it's the right plan for you? Our team at Mortgage Connection is committed to providing clear, understandable answers for all of your mortgage questions—all you have to do is get in touch with us, and we'll get to work setting you on the path towards financial freedom.
What Is a Reverse Mortgage?
So, what is a reverse mortgage? In the simplest terms, a reverse mortgage is a loan you can get based on the value of your home. In some cases, you can borrow up to 55% of your home's value!
Reverse mortgages are available to homeowners 55 years and older, and the amount you receive is based on:
Your home's appraised value
Your age
Your lender
If your reverse mortgage application is accepted, you may choose to receive your loan as one lump sum or in periodic payments. From here, you can use this money however you see fit, and you won't have to pay back or make any payments on the reverse mortgage until:
You sell the home
You move out of the home
The last borrower passes away
You default on the loan
You will default on your reverse mortgage if you use the money for illegal activity, lie on your application, damage the home, or break any conditions on your reverse mortgage contract. Different lenders may have different contract conditions, so please pay attention to how they may affect you.
Requirements & Applying for a Reverse Mortgage
There are a few requirements you must meet before you can apply for a reverse mortgage. First, you'll have to pay off any debts secured by your home (like your mortgage or HELOC), but you may use the money you get from a reverse mortgage to pay off these debts.
As we said earlier, reverse mortgages are only available to 55-year-old homeowners and older, but it's still an application process. Before accepting your reverse mortgage application, your lender may consider:
Your age
Where your home is located
The quality and appraised value of your home
You may only apply for a reverse mortgage for your primary residence, meaning you live in the home you're using to apply at least 6 months a year.
We highly recommend getting second opinions from legal experts. Just because you meet all the requirements of a reverse mortgage does not guarantee it is a fitting choice for your finances. Even when getting a loan, there are usually some fees you'll have to pay.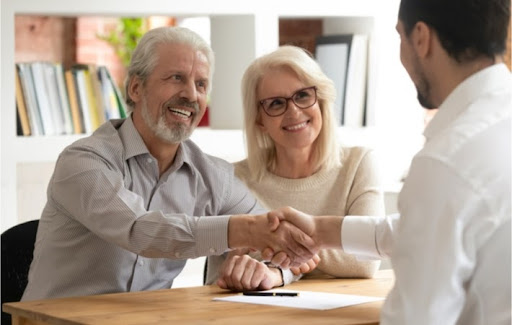 Costs & Paying Back a Reverse Mortgage
Like most financial decisions in your life, there'll be several fees you'll have to consider before getting a reverse mortgage. These fees can include:
Home appraisal fees
Setup fees
Legal fees
Loan interest rates
Prepayment penalties
Legal, setup, and home appraisal fees are pretty straightforward, and you'll likely have an idea of what these look like when you start the reverse mortgage process. However, loan interest rates and prepayment penalties deserve a little more explanation.
Loan Interest Rates
While you don't have to make payments on your reverse mortgage while living in your home, the loan does accumulate interest over time. When it's time for you or your estate to pay the loan back, it has to be paid in full plus interest.
Reverse mortgage interest rates are higher than traditional mortgages as well, usually sitting around 5% to 7%. Even though these rates are higher than traditional mortgages or HELOC, they are considerably lower than credit cards, personal loans, and unsecured credit interest rates.
However, interest rates accumulate over time, but as long as your home's value increases, your home equity should be able to cover the loan plus accrued interest.
Prepayment Penalties
If you're paying your loan back too quickly, you may have to pay a certain penalty alongside your prepayment. This penalty may be calculated using:
The amount you prepay
How long you've had the loan
Principal outstanding balance
For example, you may have to pay 5% of your loan's initial principal if you pay off the reverse mortgage in the first year, but this depends entirely on your lender.
However, your estate will not face prepayment penalties if you pass away within 5 years of getting your reversed mortgage. You will get your prepayment penalties cut in half if you have to move into an assisted living community.
When Is a Reverse Mortgage Right for You?
A reverse mortgage may be a good option for you if you:
Don't have an income
Don't have a good credit history
Don't want to make loan payments
Don't want to sell your home.
In most cases, seniors nearing or in retirement find that reverse mortgages provide them with the money they need it most. However, other options are available, and they may be a better option depending on your financial goals.
We want to help you make an informed decision about your home and money. If you'd like to see if reverse mortgages are the right choice for you, please call the team at Mortgage Connection today.